If you're going to be in the Philadelphia area, make a stop by the kinda-new
Liberty Bar
and have a few beers with Karoshi and I. We'll be playing music from all across the spectrum, from funk/soul clssics to video game themes to house music to random shit we found on the internet that we thought would be funny. It's a casual, relaxed atmosphere and there's even Chinese food right next door if you get hungry and a porno theatre next to that if you get horny.
Oh yeah, we'll be taking requests. The bar has high-speed internet access, so it'll be like one of those Touchtunes Jukeboxes that seem to be all the rage, but without the premium of having to spend all the quarters you wanted to use on Megatouch instead.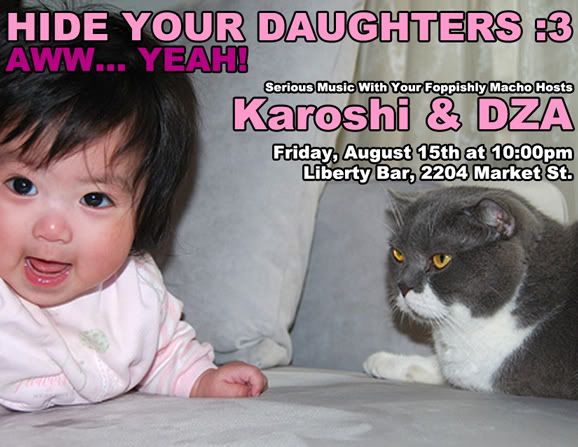 p.s. My giflriend is #1 at Photo Hunt Chippendales Channel Edition. Challenge her!!!