Flatpack Traxx Presents Smoke City's Axiom & Newcomer Brandon Black, With a solid summery 4 track affair. Axiom has been delivering high quality tracks over the past 12 months with some very solid releases on some very notable labels such as Greenhouse, Smoke city, Black Crack, 1200 Traxx, Flatpack Traxx, Sampled & Greenskeepers Music under his hoodfellas guise. Brandon on the other hand has been involved in the EDM scene for over 10 years, built on a passion for classic house beats of the mid 90s & a sinister fetish for the jackin sound of today.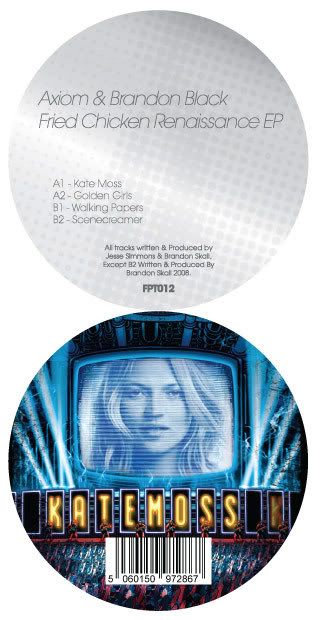 The Fried Chicken Renaissance Ep kicks off with "Kate Moss" a beautiful summery affair that keeps asses on the floor with a sick rolling bassline, disco tinged stabs & solid skippy drums, accompanied by some nice female vocals.
"Golden Girls" follows in a similar vein with Chunky skippy drums & a phat rolling bassline, adding to the summery vibe of this ep.
"Walking papers" is a total contrast to the rest of the ep. With instanly recognisable vocals, deep bassline & well programmed keys.
"Scenecreamer" rounds off the EP & is a solo offering from Brandon which builds & builds over deep percussive elements, skippy jackin beats, lush keys & a phat bassline with a famous 90's vocal.
DJ Support
Hector Moralez (Minority Music) - will def bump them out load and proud.
Sound Diggers (Greenhouse, Spatula City) - This shit spanks the floor! Real like! Walking papers is super cool and sexy, the other tracks are belters too with great a pumping feel to them. Major support from me!
Louis Hughes (The Truth, Chicago House FM) - Favorite track on the axiom & Brandon black release is Walking papers.
Cheeky vocal there! Over all a solid release!
Giano/ Mr Patron (Lazy Days, Italiano Records) - This is A great EP.
Brandon Black Is Kicking Ass Lately!
Jay Marks (Bless Resident) – Solid release been waiting for this for like ever.
Additional Support from Brian Anderson, Giano, Hector Moralez, Miss Mee, Pete Le Freq, Quirk Burglars, Bobby & Klein, Dj Heather, Bryan Jones